About Who Owns Scotland
Who Owns Scotland is a project designed to provide information about who owns land in Scotland. For more details on how to use the website, what the data means, FAQ, and the history of the site, see the links below. Meanwhile the most important things to know are as follows.
The project is owned, administered, and maintained by Andy Wightman - see contact page.
This project is solely about providing accurate information about who owns Scotland.
No warranty is provided. Please do not rely on the information on this site for any legal or commercial purposes.
The vast majority of the information is derived from the official landownership records held by the Registers of Scotland (the Register of Sasines and Land Register). Other sources include organisations such as Scottish Natural Heritage where the information is reliably sourced from such organisations themselves.
The information is always out of date. The aim is to have all data current within one year by the end of 2023. See the About the Who Owns Scotland Data page for further information.
There are large areas of Scotland that do not have any information. Coverage will be expanded but will only ever include rural land. Generally speaking the research involves identifying the largest holdings first and working downwards to smaller and smaller holdings.
Check that the site is offering what you are expecting. See the foot of this page for a sample of the data and the current coverage across Scotland.
For the latest news on the site and what updates have been made, see the News page.
How to use the Website
Visit the How to Use the Website page to learn how to subscribe and use the mapping functions.
About the Dataset
To find out more about the data, how it is derived, what it means, and how to interpret it, see the About the Who Owns Scotland Data page.
FAQ
Some Frequently Asked Questions are answered on the FAQ page.
History
For an account of the history and background to the Who Owns Scotland project, see the History page.
Coverage 30 November 2023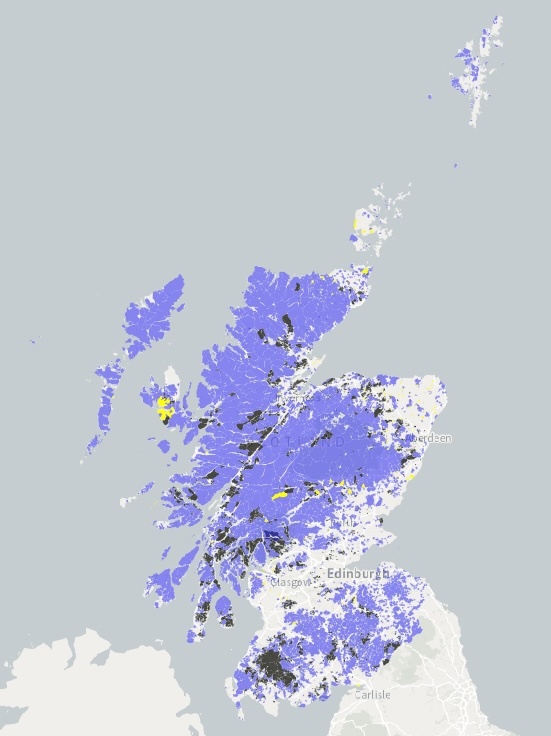 Dark Grey = National Forest Estate
Blue = all other land (>98% privately owned) included on website
Yellow = properties added or where ownership has been updated in November 2023 update (click here for larger resolution 2Mb pdf)
Sample of Data